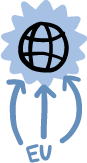 EuroGOOS plays a leading role promoting and supporting coordination of the marine observations at the regional, pan-European, and global levels. To this end, EuroGOOS is involved in strategically important EU projects and tenders, enhansing synergy across the communities, working closely with key stakeholder initiatives and networks as well as European policy and decision-makers. This work is a critical contribution to building a sustained and integrated European Ocean Observing System (EOOS) and, coupled with the EuroGOOS roles within global iniatives (GOOS, GEO, JCOMM and others), helps promoting European leadership globally.
Recent EuroGOOS project deliverables are available here. 
Discover the initiatives and projects where EuroGOOS is partner and what role we play.
Ongoing
Recently Completed