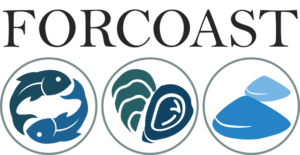 FORCOAST is a European Union Action titled "Earth Observation Services for Fishery, Bivalves Mariculture and Oysterground Restoration along European Coasts", running from November 2019 to October 2022 (extended). FORCOAST works to foster market development exploiting the value of Copernicus Earth Observation Products. FORCOAST aims to provide information services that offer high resolution water quality and met-ocean indicators in coastal and nearshore areas, to improve operation, planning and management of different marine activities in the sectors of wild fisheries, oystergrounds restoration, and bivalve mariculture.
FORCOAST is developing, testing and demonstrating novel Copernicus-based services that will incorporate Copernicus Marine, Land and Climate Services products, local monitoring data and advanced modelling. FORCOAST will provide services in eight pilot sites covering five European regional waters: North Sea, Baltic Sea, Mediterranean Sea, Black Sea and the coastal Atlantic Ocean.
In FORCOAST, EuroGOOS is co-leading the communications work package (WP7) supporting the project's stakeholder engagement activities, and is involved in work packages on requirements (WP2) and service design (WP3). FORCOAST has been conceived by the EuroGOOS Coastal Working Group and involves EuroGOOS regional systems: IBI-ROOS, BOOS, NOOS and MONGOOS, as well as eight EuroGOOS member organizations.
Discover the FORCOAST website here.
Download the FORCOAST flyer:
FORCOAST Project Flyer

FORCOAST is an EU-funded project involving public and private sectors to improve the business uptake of the Copernicus Earth Observation services. FORCOAST will develop, test and demonstrate in pilot areas innovative services based on satellite information from Copernicus Marine, Land and Climate Services, local in-situ information and advanced numerical modelling techniques.

2.17 MB