Ocean Observing and Ocean Literacy – a win-win deal
The EuroGOOS Ocean Literacy Network has been established to upscale the national efforts of the EuroGOOS members and contribute to broader Ocean Literacy efforts globally.  Download our OceanObs'19 poster here.
The EuroGOOS Ocean Literacy Network works to:
Provide visibility and recognition of the members' Ocean Literacy efforts at pan-European and global levels;
Allow re-using, re-purposing, adapting or translating each other's materials;
Join efforts in collaborative projects or initiatives and help foster international partnerships;
Contribute to the European role in international Ocean Literacy in link with the UN Ocean Decade's developments.
The EuroGOOS Ocean Literacy Network brings together experts from 20 organizations; in 8 countries and 3 organizations with pan-European or global remit. The group is facilitated by the EuroGOOS Office.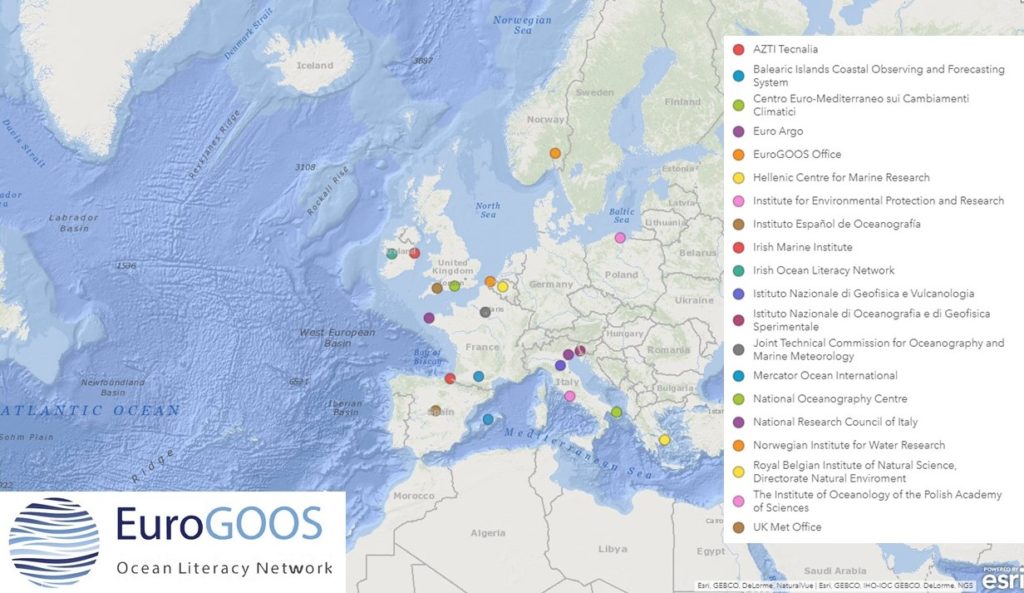 Members include:
Network coordinator: Dina Eparkhina, EuroGOOS Office
AZTI tecnalia, Spain – Carolina Alonso
Balearic Islands Coastal Ocean Observing and Forecasting System (SOCIB), Spain – Veronica Ortiz, Llúcia Ribot, and Rosa Rodríguez
Euro-Argo ERIC / Ocean Observers Working Group – Claire Gourcuff
Euro-Mediterranean Center on Climate Change (CMCC), Italy – Paola Agostini
Hellenic Centre for Marine Research (HCMR), Greece – Panayota Koulouri
Institute for Environmental Protection and Research (ISPRA), Italy – Elena Giusta
Institute of Oceanography (IEO), Spain – Mari Carmen García
Institute of Oceanology of the Polish Academy of Sciences (IO-PAN), Poland
Irish Ocean Literacy Network, Ireland – Noirin Burke
Joint Centre for Oceanography and Marine Meteorology in situ Observations Programmes Support (OceanOPS) / Ocean Observers Working Group – Emanuela Rusciano
Marine Institute, Ireland – Cushla Dromgool-Regan
Mercator Ocean International – Fabrice Messal
Met Office, United Kingdom – Ana Aguiar
National Institute of Geophysics and Volcanology (INGV), Italy – Simona Simoncelli, Marina Locritani, and Antonio Guarnieri
National Institute of Oceanography and Applied Geophysics (OGS), Italy – Donata Canu, Elisa Banchi, and Francesca Malfatti
National Oceanography Centre (NOC), UK – Lucy Cox (until February 2021)
National Research Council (CNR), Italy – Angela Pomaro
Norwegian Institute for Water Research (NIVA), Norway – Kai Sørensen and Anna Birgitta Ledang
Royal Belgian Institute of Natural Sciences (RBINS), Belgium – Kelle Moreau