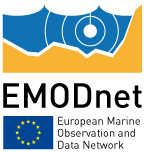 EMODnet Physics Phase III, March 2017-Feb. 2019
EMODnet Data Ingestion, May 2016-April 2019
EMODnet Checkpoints (Atlantic, Sept. 2015 – August 2018; Baltic, June 2015 – June 2018)

EMODnet is a European data network covering European coastal waters, shelf seas and surrounding ocean basins. EMODnet is unlocking fragmented and hidden marine data and makes them openly available, facilitating public and private investment in sustainable coastal and offshore activities. EMODnet is also a source of data necessary to understand the seas and oceans state and variability.
EMODnet is in its final development stage (phase III, ending in 2021) working towards a seamless multi-resolution digital map of the entire seabed of European waters. The map will deliver highest resolution possible in areas that have been surveyed, including topography, geology, habitats and ecosystems. This will be accompanied by timely information on physical, chemical and biological state of the overlying water column as well as oceanographic forecasts.
EuroGOOS plays a key role in the development of the EMODnet Physics portal, coordinated by ETT, Italy. EuroGOOS Regional Operational Systems (ROOSes) feed data to EMODnet exploiting SeaDataNet and Copernicus Marine Service infrastructures and services. Furthermore, the portal gives access to near real time and archived data from the EuroGOOS Task Teams and provides OGC services (WMS, WFS, and WCS) for data discovery, view and download.
EuroGOOS was also partner in the development of the EMODnet data ingestion portal. This portal helps identify and reach out to potential marine data providers and make their datasets part the existing marine data management infrastructures. The portal helps private and public data holders release their data for safekeeping and subsequent distribution through EMODnet. This will enrich the total offer for all types of users conforming to the EMODnet motto 'collect data once and use it many times'.
In addition, EuroGOOS was partner in two EMODnet checkpoint projects in the Atlantic and the Baltic. The checkpoints audit the value of EMODnet in particular and the marine data services in general, in their ability to solve concrete commercial, environmental, and policy challenges.