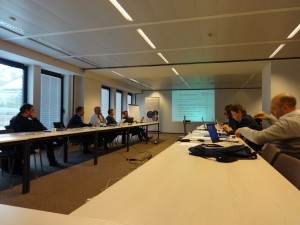 The first joint meeting between EuroGOOS ROOS's, Working Groups and the newly established Task Teams took place last week in Brussels (4 March).
The main purpose of the meeting was to get everyone informed/updated on the activities in the different groups, seek synergies and enhance the cooperation.
The meeting had a very positive atmosphere and was appreciated by the participants. Many potential links between the different groups were identified and many valuable discussions between the presentations.
Most of the bodies were represented but of course it would be desirable to have 100% participation at the next meeting. The following meetings shall have a more focused format, paying attention to specific needs/requests/issues. It was decided to meet twice per year including one meeting coinciding with the Annual Meeting.
The possibility to expand the Task Team so to cover other operational aspects such as drifters, research vessels, and moorings (with FixO3) was also discussed.
Participants:
Ole Krarup Leth, DMI – COSMO WG co-chair
Jun She, DMI – SAWG chair
Begoña Perez, Puertos del Estado – Tide Gauge
Stein Sandven, NERSC – Arctic ROOS chair
Paolo Oddo, COSMO WG co-chair
Pierre Testor, CNRS – Gliders
Patrick Gorringe, EuroGOOS Office
Glenn Nolan, Marine Institute – IBI-ROOS co-chair & TPWG chair
Julien Mader, AZTI – HFR
Erik Buch, EuroGOOS Chair
Pierre-Yves le Traon, IFREMER – Euro-Argo