Date
11/11/2020

The virtual session 'Co-designing the science and capacity we need for the Mediterranean Region' will explore the regional context, needs, and priorities in the Mediterranean and will examine how ocean science can help transform 'the Mediterranean we have' into 'the Mediterranean we want'.
The session will include two parts. The first part will examine the main challenges and opportunities for collaborative research in the Mediterranean region, focusing on lessons learned from interdisciplinary initiatives, ways to overcome institutional barriers, cooperation across disciplines, sectors, and epistemic communities, as well as private sector participation. During this segment, the EuroGOOS Chair George Petihakis will deliver a presentation on the policy instruments needed to promote more inclusive and interdisciplinary Science, Technology and Innovation (STI) settings in the Mediterranean. The second part will cover the capacity development, education, and training needs in the Mediterranean Sea, including topics such as marine spatial planning, underwater cultural heritage, and ocean literacy.
This event is organized by the Intergovernmental Oceanographic Commission (IOC) of UNESCO, the Italian Oceanographic Commission, the European Commission, the United Nations Environment/ Mediterranean Action Plan(UNEP/MAP), the Mediterranean Science Commission, with the support of the Swedish Ministry of the Environment and in collaboration with the BlueMed Initiative, as part of the Ocean Decade Virtual Series.
Registration is open here. For the full programme, please visit the IOC website.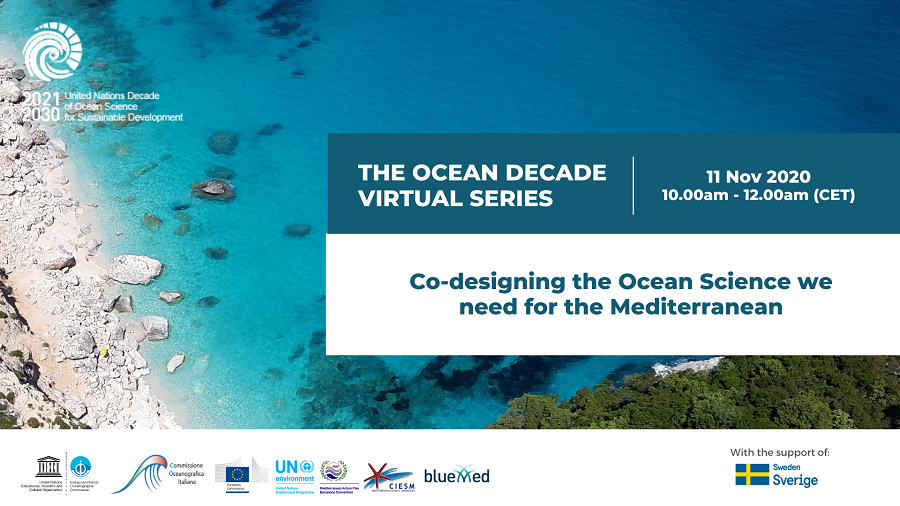 Location
Virtual