Date
29/06/2022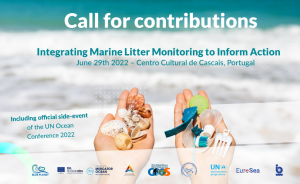 On 29 June, the event "Integrating Marine Litter Monitoring to Inform Action" will take place at the Cascais Cultural Center, as an official side event of the United Nations Ocean Conference 2022. This event will focus on the need for monitoring marine litter to inform action with the following objectives:
Advocate the necessity of a global sustained Integrated Marine Debris Observing System (IMDOS)
Promote the building of a global IMDOS community
Encourage the cooperation among scientists and between scientists and stakeholders such as policy makers and mitigation actors.
Expected outcomes include:
Presentation of IMDOS as a joint project of UNEP Global Partnership on Marine Litter (GPML) and partner organisations (Global Ocean Observing System, GEO Blue Planet and others tbc) with global coordination established
Proposed IMDOS Terms of Reference and interim Steering Committee
Identification of actions in support of the UNEP GPML Digital Platform and the associated Community of Practice on Marine Litter and Plastic Pollution Data Harmonisation.
The event's plenary sessions will be broadcasted live via the GEO Blue Planet Youtube channel. To submit an Expression of Interest, please click here. 
Location
Cascais Cultural Center