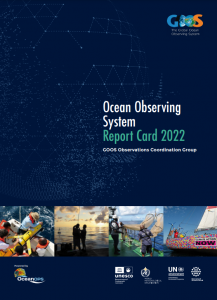 The United Nations have just released the new Ocean Observing System Report Card – a high-level annual report providing a deep insight on the state, capacity and value of the Global Ocean Observing System (GOOS). The Report Card was produced by the operational centre OceanOPS in collaboration with GOOS partners and experts. 
In 2022 the Report focuses on how an integrated observing network adds value to society across the three GOOS delivery areas of climate, operational services and ocean health. The Report highlights physical, biogeochemical and, for the first time, biological observations, providing a global view of the state of the GOOS, identifying the latest observing networks' progress, the key challenges and opportunities to enhance the system.
The 2022 Report Card focuses on several key areas:
Global view of the state of the Global Ocean Observing System
Monitoring ocean carbon uptake to allow more accurate climate model projections 
Advancing coastal inundation forecasts and early warnings 
Phytoplankton observations – vital for understanding changes in food webs and shifts in marine life
Involvement of new communities through the GOOS Ocean Decade Programmes
The Ocean Observing System Report Card was prepared by OceanOPS, GOOS Observations Coordination Group, GOOS-BioEco and BGC panels, OOPC panel, and the Secretariats of the Intergovernmental Oceanographic Commission of UNESCO and of the World Meteorological Organization. 
The Ocean Observing System Report Card is available at: ocean-ops.org/reportcard