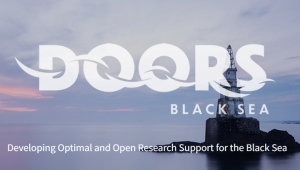 The EU DOORS project has announced the launch of observation and data mapping tool for the Black Sea developed by EuroGOOS. From a single interface, the tool allows users to navigate across different ocean observing and data initiatives in the Black Sea. Users can access marine data aggregators collecting physical, chemical or biological data, and also marine research infrastructures with existing, or in the way of developing, observing capacities in the Black Sea. This is an important step to investigate ocean observing potential, synergies, and knowledge transfer in the region.
In the mapping viewer, the following Marine Research Infrastructures and EU or international data aggregators have been included:
European Marine Research Infrastructures: EMSO ERIC, Euro-Argo ERIC, EMBRC ERIC, LifeWatch ERIC, DANUBIUS RI, JERICO RI, EuroFleets +;
European marine data aggregators: EMODnet, SeaDataNet, CMEMS INSTAC;
International observing network monitoring dashboard: OceanOPS.
One of the main objectives of this exercise was to increase awareness of the status of the observation capacities in the Black Sea as well as the importance of data sharing to underpin a fit-for-purpose and sustained ocean observing system in the Black Sea. The viewer will be evolving during the lifetime of the DOORS project and can be subject to changes and modifications as more marine observation infrastructures or new marine data sources for the Black Sea are being identified. This exercise was not aimed to start another catalogue but make use of the existing repositories by creating a web inventory where all the initiatives are briefly introduced and easy to access. 
Discover the Black Sea observation and data mapping tool here.