The major interface between humans and the ocean occurs in the coastal seas. Marine industries thrive in this area while European citizens make daily use of the coastal ocean for tourism, leisure and recreation. Operational oceanography assists both industry and the general public to make decisions about their use of and access to the coastal ocean. The EuroGOOS community has developed a wide range of products and services for such use cases.
The EuroGOOS Coastal working group will examine the entire value chain from coastal observations, satellite data, ocean forecasts and analysis, to products and services for coastal users. The working group will examine sustainability and fitness for purpose of the existing system and identify future steps needed to secure and improve all elements of the coastal value chain. The working group started its work with a kick-off meeting in Brussels on 9 May 2018. 
The EuroGOOS Coastal Working Group will build upon significant initiatives already completed or underway that have focused on coastal observing. These include, but are not limited to, the work of the JERICO and JERICO-NEXT EC projects, activities within EuroGOOS working groups, task teams, and the five regional operational oceanographic systems (ROOS). A key early priority for the Coastal Working Group will be to document the existing and planned activity and provide a status of the coastal observing system at the present time.
The EuroGOOS Coastal Working Group conducted a survey on the operational modelling capacities in the European seas. An analysis derived from the survey, published in Frontiers in Marine Science Journal, drew on contributions from 49 organizations across Europe to assess the current operational modelling capacities and services. The article examined the gaps, needs, and priorities for improving the marine and coastal operational modeling capacity and put forth a number of recommendations. Read the full study here.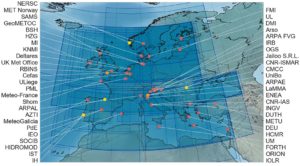 Working group members:

Ghada El Serafy (Deltares, Netherlands) -Working Group Chair
Anna Rubio (AZTI, Spain) – Working Group co-Chair
Francisco Campuzano (+ATLANTIC CoLAB, Portugal)
Arthur Capet (Uni Liege, Belgium)
Veronique Creach (Cefas, UK)
Tomasz Dabrowski (Marine Institute, Ireland)
Federico Falcini (CNR, Italy)
Costas Frangoulis (HCMR, Greece)
Marcos Garcia Sotillo (Puertos del Estado, Spain)
Antonio Guarnieri (INGV, Italy)
Andrew King and Helene Frigstad (NIVA, Norway)
Sebastien Legrand and Kaitrijn Baetens (RBINS, Belgium)
Angelique Melet (Mercator, France)
Lorinc Meszaros (Deltares, Netherlands)
Ivane Pairaud and Guillaume Charria (Ifremer, France)
Oyvind Saetra (MetNO, Norway)
Jun She (DMI, Denmark)
Joanna Staneva (Helmholtz-Zentrum Hereon, Germany)
Joaquin Tintore and Baptiste Mourre (SOCIB, Spain)
Marina Tonani (UK Metoffice)
Georg Umgiesser (CNR, Italy)
Laura Ursella (OGS, Italy)
Antti Westerlund (FMI, Finland)
Vicente Fernández and Dina Eparkhina (EuroGOOS Office) – supporting the working group