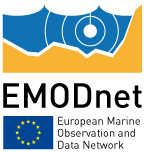 EMODnet Physics Phase II, July 2013-June 2016
The EMODnet Physics portal provides access to near-real-time data and historical time serites and datasets on the physical conditions of the European seas and oceans. Furthermore, the project determines how well the existing data meets the needs of users from both science, industry and public authorities.
EMODNet is a European data network covering all European coastal waters, shelf seas and surrounding ocean basins. EMODnet is unlocking fragmented and hidden marine data and makes them openly available, facilitating public and private investment in sustainable coastal and offshore activities. EMODnet is also a critical source of data necessary to understand the seas and oceans state and variability.
EuroGOOS plays a key role in the development of the EMODnet Physical portal, coordinated by ETT, Italy. EuroGOOS Regional Operational Systems (ROOSes) feed data to EMODnet exploiting SeaDataNet and CMEMS infrastructures and services. Furthermore, the portal gives access to near real time and archived data from the EuroGOOS Task Teams and provides OGC services (WMS, WFS, and WCS) for data discovery, view and download. In addition, EuroGOOS is partner in two EMODnet check points, in the Baltic and in the Atlantic. The checkpoints audit the value of EMODnet in particular and the marine data services in general, in their ability to solve concrete commercial and policy challenges.
EMODnet is a long-term marine data initiative from the European Commission Directorate-General for Maritime Affairs and Fisheries (DG MARE) underpinning its Marine Knowledge 2020 strategy. The EMODnet data infrastructure is developed through a stepwise approach in three major phases. Currently EMODnet is in the 2nd phase of development with seven sub-portals in operation that provide access to marine data from the following themes: bathymetry, geology, physics, chemistry, biology, seabed habitats and human activities. EMODnet development is a dynamic process so new data, products and functionality are added regularly while portals are continuously improved to make the service more fit for purpose and user friendly with the help of users and stakeholders.
Watch EMODnet videos: