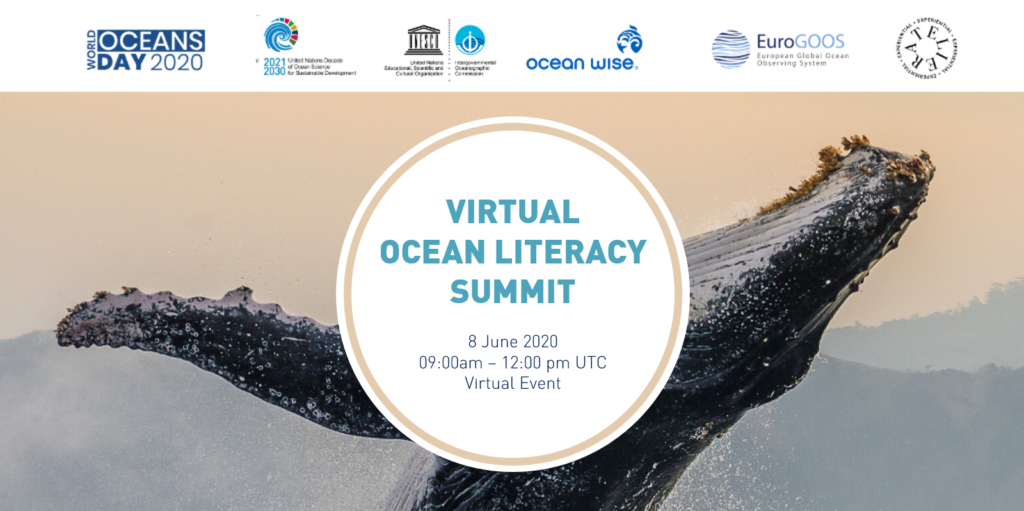 On 8 June 2020, IOC-UNESCO together with EuroGOOS, OceanWise, and Experimental Atelier, organize the First Virtual Ocean Literacy Summit, to take stock of the enormous progress of the Ocean Literacy community worldwide. Ocean Literacy is defined as 'the understanding of human influence on the ocean and the ocean's influence on people'.
In the context of the UN Decade of Ocean Science for Sustainable Development 2021 – 2030, Ocean Literacy is expected to play a key role in helping transform ocean knowledge into action. None of the sustained ocean actions can be achieved without the Ocean Literacy and responsible citizenry. Ocean Literacy in the UN Decade of Ocean Science will help encourage the science community, governments, policymakers, funders and resource providers, private sector, and civil society to think beyond 'business as usual' and aspire for a real change leading to solutions.
The Summit is being organized by the Intergovernmental Oceanographic Commission (IOC) of UNESCO in partnership with OceanWise, EuroGOOS, and Experiential Atelier, and in collaboration with: IPMEN, COSEE, CaNOE, NMEA, Australian Marine Education Network, Ocean Literacy Italia, Direção-Geral de Política do Mar, Aquamater, Asia Marine Educators Association, Irish Ocean Literacy Network, Oceano Azul Foundation, Ciência Viva, Universidade Federal de São Paulo, Red de Educación Latinoamericana para el Océano, and EU DG MARE's OL4All.
Visit the Summit's resource page which includes a variety of Ocean Literacy resources worldwide, including those of the EuroGOOS Ocean Literacy Network. Register to attend the live event on 8 June 2020, the UN World Ocean's Day.