Posted June 8, 2017
Today on World Oceans Day, EuroGOOS submitted its commitment to the UN Sustainable Development Goal 14 towards Sustained and Integrated Ocean Observing and Open Data Sharing (view on the UN Ocean Conference website). 
In the statement, EuroGOOS commits to further its efforts to coordinate European ocean observing supporting networks of Regional Operational Oceanographic Systems (ROOSes) and ensuring their integration in the Global Ocean Observing System. EuroGOOS ROOSes and networks of observing platforms (Task Teams) play an important role in unlocking marine data collected by individual European nations and enhancing open data exchange as well as data standardization and harmonization. EuroGOOS commits to further the integration of the existing marine data towards interoperability, promoting open data and engaging with a wide range of stakeholders holding or collecting data. Furthermore, EuroGOOS will increase its communication and outreach efforts to inform policy and decision makers as well as wider stakeholders, towards ocean literacy and responsible long-term vision for sustainable ocean management.
Read the EuroGOOS commitment towards 'Sustained and Integrated Ocean Observing and Open Data Sharing' on the UN Ocean Conference website 
Posted June 6, 2017
EuroGOOS General Assembly took place in Brussels from 31 May to 2 June 2017. 56 delegates attended the special open session dedicated to ocean observing and derived marine data and services. EuroGOOS and European Marine Board presented the progress in the development of an integrated and sustained European Ocean Observing System, EOOS. Coordinated by those two networks, EOOS is being built as an open and inclusive framework. The recent stakeholder consultation delivered valuable recommendations to the EOOS steering group co-chaired by EuroGOOS and EMB. Furthermore, global efforts of GOOS and the G7 ministers' ocean observation initiative were presented.
Copernicus vision and ongoing integration and optimization efforts were showcased by speakers from three Copernicus services: Marine, Climate, and Security. Furthermore, the European Environment Agency shared their work in support of the in-situ component across the services. The European Space Agency updated the meeting on the Copernicus evolution and sentinel expansion.
European marine data aggregation initiatives, SeaDataNet and EMODnet, presented their work programmes. Both initiatives have entered a new phase, EMODnet having entered its third and last phase, and SeaDataNet having started a new Horizon 2020 project, SeaDataCloud.
Following the informative and fruitful special session, the meeting proceeded to discuss the EuroGOOS core activities, namely the developments in the EuroGOOS regional systems, ROOSes, infrastructure networks, Task Teams, and cross-cutting Working Groups. EuroGOOS chair and the office introduced an advancement of the EuroGOOS 2014-2020 strategy, with a set of five priorities to be implemented across all activities. The strategy will continue to be supported with a targeted communication. EuroGOOS also presented the communication efforts promoting EOOS, including a dedicated website, publications and presentations at stakeholder events.
On the last day of the Assembly, the formal session approved new EuroGOOS membership application from the Coastal Observing and Forecasting System, SOCIB, Spain, presented by director Dr. Joaquín Tintoré. The members also approved a new EuroGOOS working group on coastal oceanography aiming to integrate the in-situ observation needs, modelling and planning for the European coasts working closely with EuroGOOS regional systems, ROOSes. Finally, George Petihakis, HCMR, Greece, was nominated as chair-elect to be appointed as chair in the 2018 elections. Dr. Petihakis will start working with chair Dr. Erik Buch who will step down in 2018.
Photo below features EuroGOOS Members and Chairs of EuroGOOS Regional Operational Oceanographic Systems, ROOSes, Task Teams and Working Group, as well as members of the EuroGOOS Office, on Day 2 of the General Assembly, 1 June 2017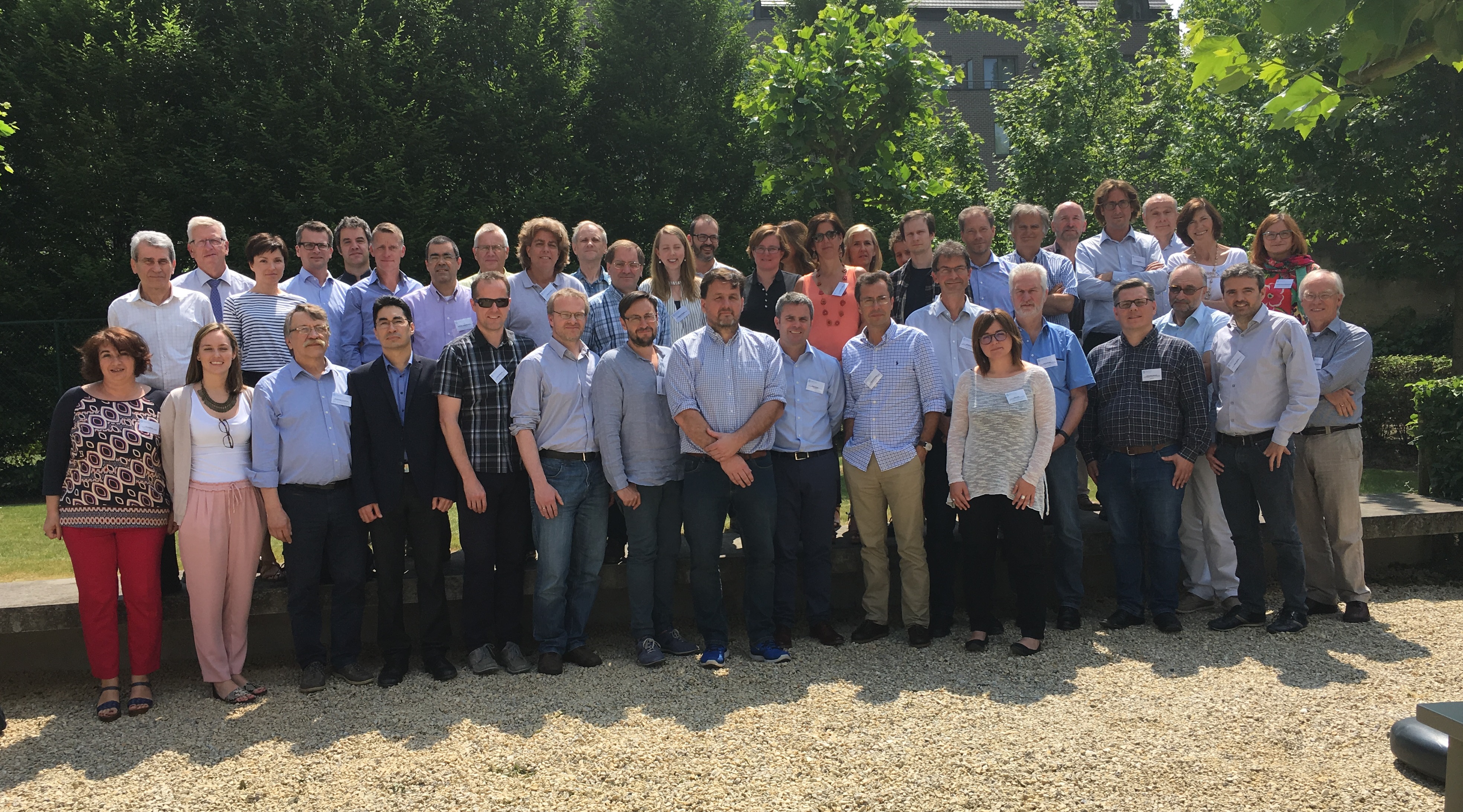 Posted May 18, 2017
EuroGOOS Tide Gauge Task Team has delivered a statement to policymakers and public authorities. In the statement, the task team calls on national ocean observing funders to address sustainability of tide gauge networks. This note, titled "Sea level observation networks in and around Europe: Challenges in monitoring increasing sea level hazards", has been released at the European Maritime Day 2017 taking place in Poole, UK, on 18 and 19 May.
Sea-level is an indicator of climate change and strongly affects coastal populations. It has been recognised as an Essential Ocean Variable by the Global Ocean Observing System (GOOS). Tide gauge measurements have been taken for centuries and today remain a key method to observe trends in mean sea level. Tide gauge data help assess extreme events, make tidal predictions and geodetic applications, support harbour operations and navigation. Furthermore, tide gauge measurements play an increasingly important role in warning systems for tsunamis and storm surges.
In 2016, the EuroGOOS Tide Gauge Task Team conducted a study of tide gauge operations in Europe and neighbouring coastal countries. As a result, the study revealed that more than half of the institutions and nearly 25% of the tide gauge stations surveyed may be facing funding problems. Should a national tide gauge network be shut down for financial reasons, a blind spot would appear on the map affecting policymakers and public authorities' decision making in assessing storm surges, tsunamis, and sea-level elevation. The study concluded there is an urgent need to ensure the sustainability of tide gauge stations in Europe and the Mediterranean region.
Download the EuroGOOS Tide Gauge Task Team note to policymakers
More about the EuroGOOS Tide Gauge Task Team
Posted May 5, 2017
In 2015, EuroGOOS established the Kostas Nittis Medal in the memory of EuroGOOS Secretary General and strategic leader Dr. Kostas Nittis (1964-2014). The Kostas Nittis Medal is accompanied by a grant and awarded to a young marine professional within the operational oceanography and broader ocean observing community.
The Kostas Nittis Medal and the grant amounting to € 3,000 aim to support the participation of young researchers and marine professionals in relevant conferences and events. The awardee is given a chance to present their research or technology at relevant events, building a professional network, gaining real life experience and reaching out to potential partners and/or employers.
The call is open to marine researchers or professionals according to the following criteria:
Candidate must be younger than 35 years old;
Candidate will have made a significant contribution to operational oceanography (technology, research, software, product/service) which is described and documented;
Candidate nominations must come from the current EuroGOOS members.
Deadline for nominations: 20 August 2017
Download the full nominations call

EuroGOOS KNMedal Call (92.1 KiB)
Download the Kostas Nittis Medal flyer

EuroGOOS Kostas Nittis Medal Flyer (305.4 KiB)
The award ceremony for the 2017 medal will take place at the 8th EuroGOOS International Conference in Bergen on 3-5 October 2017.
The first Kostas Nittis Medal 2015 was awarded to Pablo Lorente Jimenez by European Commissioner for Environment, Maritime Affairs and Fisheries Karmenu Vella at the European Maritime Day 2015 in Athens, see our news item here. The second medal 2016 was received by Angelique Melet at a dedicated event of the EuroGOOS Annual Assembly Stakeholders Day, see our news item here.
Posted April 24, 2017

EuroGOOS 2017 Conference Flyer
(124.6 KiB)
Abstract submission is now open for the 8th EuroGOOS International Conference, Operational Oceanography Serving Sustainable Marine Development, to take place in Bergen, Norway, from 3 to 5 October 2017.
Key priorities of the 2017 EuroGOOS conference are:
Highlight the progress in linking and aligning European ocean observing stakeholders and initiatives towards building an integrated and sustained European Ocean Observing System (AtlantOS, INTAROS, and others); 
Highlight the progress made in integrating and aggregating European marine data to enhance its societal and economic potential (Copernicus Marine Service, EMODnet, SeaDataNet, and others);
Identify community priorities regarding the evolution of the Copernicus Marine Environment Monitoring Service;
Evaluate the role of marine research infrastructures in the operational oceanographic system;
Emphasise new initiatives under way for polar seas (observation and predictive capabilities);
Explore some of the new technologies for coastal operational oceanography;
Elaborate the role of acoustic technologies in the ocean observing system;
Evaluate the ongoing efforts to integrate ocean observing and data initiatives at a global level, meeting the societal, policy and economic needs.
Abstract submission, registration and further information on the conference website

EuroGOOS 2017 Conference Flyer
(124.6 KiB)
Posted April 4, 2017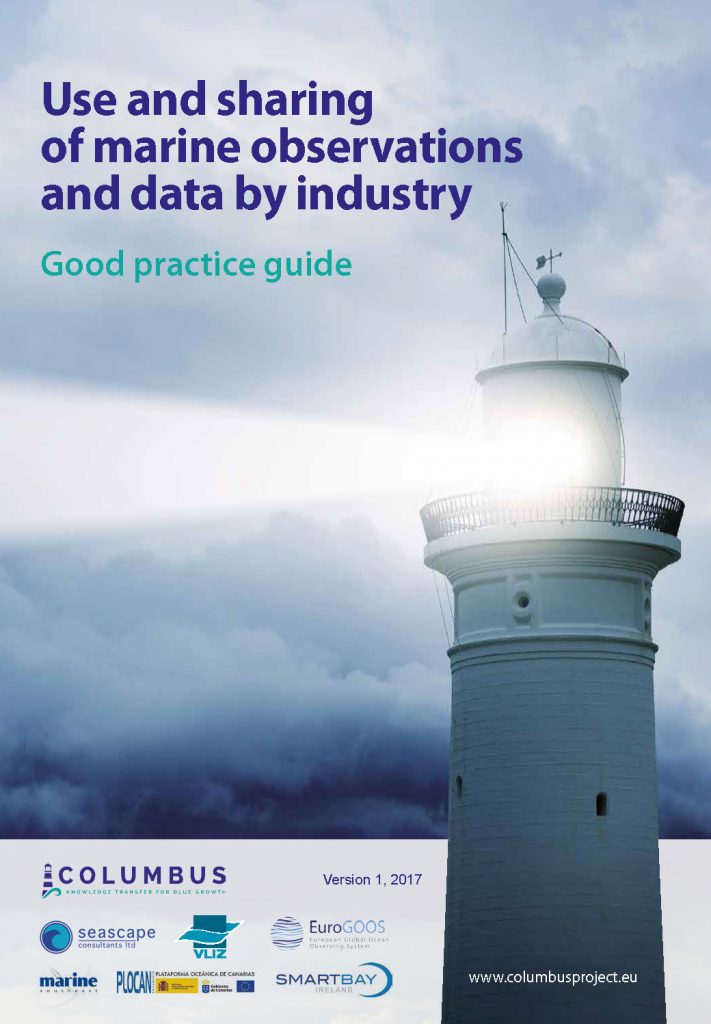 The capacity of marine data and information to deliver sustainable economic benefits has been recognized. However, coastal and ocean observatories and public data-sharing initiatives face common challenges in demonstrating uptake and application of open marine data and information for economic development and innovation. This is critical for those initiatives aiming to deliver growth in the blue economy, particularly in terms of justifying the continued investment of public funds. The COLUMBUS project has released a guide to help public ocean observing and data initiatives engage with Blue Growth industries.
Currently, the European Union provides a considerable investment in marine monitoring and observation, data sharing and assembly, as well as downstream services. As a result, significant progress has been made to collect, aggregate and make publicly available the data and information derived from monitoring and observing our European seas and oceans. So, what is hindering effective engagement of industry with marine observatories and related data-sharing initiatives? 
This guide explores these issues and makes concrete recommendations on how to stimulate a dialogue between public data collectors, providers and portals, and data users or providers from the private sector.
The primary target audience for this document are the European marine observatories and public data-sharing initiatives that cite industry as a target user group for their resources. However, this information could also be valuable to companies and other stakeholders operating in the blue economy who are collecting, processing and/or using marine data as part of their activities.
Download the guide on use and sharing of marine observations and data by industry (April 2017)
The guide is presented for the first time at the Ocean Business brokerage event organized within the Jerico-Next project, on 4 April 2017.
Posted March 23, 2017
Scroll down for the event's photogallery
The 2nd International Conference on Marine/Maritime Spatial Planning (MSP) took place at UNESCO, Paris, on 15-17 March. The conference brought together 300 MSP practitioners, consultants, environmental managers, policymakers, and social-economists. The participants discussed the lessons learnt in the MSP process, and looked ahead, re-confirming the critical role of MSP for a broad range of ocean-related issues, from environment to economy (international ocean governance, Agenda 2030, blue economy, climate).
EuroGOOS showcased the importance of ocean knowledge and information for informed decision-making in the MSP process. At our exhibition stand, the conference participants were learning about the ongoing European efforts across the whole marine data value chain, from data collection, to data aggregation and processing, to data services and products for various types of users. Copernicus Marine Service, CMEMS, activities were showcased, delivering a comprehensive set of marine data products based on the information from both satellite and in-water observations. Other initiatives profiled included the European Marine Observation and Data Network, EMODnet, the European Atlantic Ocean Observing project, AtlantOS, and an integrated European ocean observing framework, EOOS, facilitated by EuroGOOS jointly with the European Marine Board.
'MSP is a data-hungry process', shared Laura Whitford during her conference talk about the Coral Triangle Initiative. The initiative has developed an atlas providing a database of spatial and non-spatial information relevant to MSP, including, marine data and environmental and policy documents.
Complexity and integration were the key words of the conference, as regards the diversity of data requirements and the governance bottlenecks in the MSP process. This applies to both sub-national governance (involving a better coherence among various national bodies with the authority over the coastal ocean), as well as regional and international governance. Charles Ehler, UNESCO's MSP consultant and a renowned world expert, explained that even with an optimistic projection that 80 countries will have MSP in their Exclusive Economic Zones (EEZ) by 2030, 60% of the ocean space is beyond national jurisdiction.
UNESCO pioneered international discussions on the requirements for MSP with the 1st International Workshop on MSP in 2006, contributing to an integrated approach to MSP both in Europe and worldwide. In 2009, UNESCO published a set of MSP guidelines which has served as a reference document ever since. With its 2008 Integrated Maritime Strategy, the European Union identified MSP as a cross-cutting policy tool enabling public authorities and stakeholders to apply a coordinated, integrated and trans-boundary approach. In 2014, the EU adopted an MSP Directive, and further emphasised the need for MSP in its Ocean Governance Communication 2016.
MSP is critical for an effective management of marine activities and sustainable use of ocean resources, creating a framework for consistent, transparent, sustainable and evidence-based decision-making. Therefore, MSP requires a wide range of baseline marine information and data which should be up-to-date, objective, reliable, relevant and comparable. 'This is a unique moment in oceanography' concluded Vladimir Ryabinin, Executive Secretary of the UNESCO's Intergovernmental Oceanographic Commission in his conference speech.
The conference was organized jointly by the European Commission's Directorate General for Maritime Affairs and Fisheries (DG MARE) and UNESCO's Intergovernmental Oceanographic Commission (IOC).
Visit the conference website 
Posted March 22, 2017
UNIS, the University Centre in Svalbard, Norway, has opened applications for a student course on Shipping in the Arctic. The course will take place in Svalbard from 31 July to 11 August 2017.
The course is interdisciplinary, providing lectures on climate, sea ice, weather, environment, navigation, technology, infrastructure, economy, regulations, and geopolitics related to shipping in the Arctic. The lectures will address how the human factors combined with the natural environment have impact on shipping activities. The lectures will give an historic summary, a present state-of-the-art and future perspectives of Arctic shipping.
The reduction of the Arctic sea ice gives new opportunities for exploitation of energy and other resources and opens new sea transport routes between Europe, Asia and North America. Simultaneously, the presence of sea ice, darkness, limitations of bathymetric charts, infrastructure and communication services put severe constraints on how ships can operate. Furthermore, shipping is bound by environmental risks, regulations, as well as economic risks and geopolitics.
Application deadline is 15 April 2017. For further information and application procedure please visit the UNIS website.
Posted January 23, 2017
The Arctic and the 4 million people who work and live there are feeling the effect of climate change much sharper than anywhere else in the world. The Arctic environment is changing due to increased temperature. The thinning of the sea ice, melting of the Greenland Ice Sheet, and thawing permafrost bring about alarming changes. Such changes have both global and local implications, including e.g. natural hazards, extreme weather, sea level change, coastal erosion and changes in the ecosystem. Furthermore, exploitation of the Arctic resources, marine transportation and other human activities are expected to increase, putting additional pressure on this vulnerable environment.
However, we do not have enough marine data and knowledge about the state of the Arctic and ways to address those changes in a sustainable way. This is why the European Commission funded a project to build an Arctic Observation System – INTAROS. The project started last December and held its kick-off meeting in Bergen earlier this month.
The INTAROS project is coordinated by the Nansen Environmental and Remote Sensing Center (NERSC) in Bergen, Norway, with professor Stein Sandven (chair of the EuroGOOS Arctic ROOS and a long-standing EuroGOOS member) leading the work. INTAROS is one of four EU projects focusing on the Arctic and will contribute to the implementation of EU Arctic Strategy. INTAROS brings together expertise from 49 partner organisations in 20 different countries in Europe, North America and Asia with the long-­term goal to implement an integrated sustainable Arctic Observation System for future generations. EuroGOOS is partner in the project, responsible for delivering recommendations on the system requirements, developing a business case and an economic benefits analysis, and contributing to the international OceanObs conference 2019.  
INTAROS will develop an integrated Arctic Observation System by extending, improving and unifying existing and evolving efforts in the different parts of the Arctic. The project will capitalise on the existing systems and databases of atmosphere, ocean, cryosphere and terrestrial data. INTAROS will combine existing distributed data repositories with the new ocean measurements and provide tools for data discovery, aggregation, analysis and visualisation. A seemless information platform will be developed for an easy access to this information, critical for understanding of the environmental changes in the Arctic. INTAROS will also install new instrumentation to measure physical, chemical, biological and ecological parameters for the atmosphere, ocean, cryosphere, and terrestrial environment. These measurements will fill information gaps, compliment remotely sensed data, and improve model predictions for the Arctic. International cooperation within and beyond Europe will be essential for the outcome of the project. A pan-­Arctic forum will be set up to support formulation of agreements and collaboration across the EU member states, non-­EU countries and transnational organisations.
This text is based on the article by EurOcean published on the CORDIS website on 16 January 2017 (permalink : http://cordis.europa.eu/news/rcn/137515_en.html)
Posted December 22, 2016
2016 was an incredibly productive year for EuroGOOS and we would like to thank all our members, regional systems (ROOSes), task teams, working groups and multiple partners for their contributions to this work!
The 1st EuroGOOS policy brief published in May and launched at the European Maritime Day in Turku set out our priorities for the coming years. The publication was prepared based on a peer reviewed article by our Science Advisory Working Group chaired by Jun She. Other articles from the EuroGOOS community were released in the Ocean Science Journal Special Issue covering our 2014 International Conference. The proceedings of the conference are available on our website.
EuroGOOS has been driving the EOOS process, working hand in hand with the European Marine Board and the EOOS Steering Group. A steering group was set up in April and met twice this year, preparing an EOOS Consultation Document and a stakeholder consultation survey, currently ongoing until 20 January. EuroGOOS launched an EOOS visual identity, website and several dissemination materials, and explained the need for EOOS at many meetings and events. We also organized a successful science-policy event on EOOS at the European Parliament.
Ocean observing has been recognized as a priority at the highest political level (UN, COP, G7, among others) and we have continued working with our global partners, IOC, GOOS, IMOS, IOOS, WMO, JCOMM, and GEO.
Two new EuroGOOS task teams have started operation this year joining the other five existing groups already actively working towards infrastructure collaboration and sustained in-situ observations in Europe. The new task teams focus on Animal-Borne Instruments and Fixed Platforms.
At the EuroGOOS General Assembly, a young researcher from France received the second EuroGOOS Kostas Nittis Medal. After the first medal was launched in 2015 in Athens by Commissioner Karmenu Vella, the Kostas Nittis Medal and associated grant have been offering a tangible support to young researchers to promote their work and explore opportunities at international events.
EuroGOOS has become a trusted partner in a number of strategic EU projects on ocean observing, cross-disciplinary collaboration and research infrastructures. Contracts with both the European Environment Agency (EEA) and Mercator Ocean were signed to enhance our understanding of the requirements and gaps in the observing system towards more efficient European Earth observation Copernicus services. Links between the Copernicus Marine Environment Monitoring Service, CMEMS, and downstream service providers at national level will also be explored and improved. EuroGOOS is actively involved in the recently started INTAROS project focussing on designing an Arctic Observing System, supplementing our work in AtlantOS.
2017 is promising to be no less exciting and productive: the 8th EuroGOOS International Conference will take place in Bergen on 3-5 October, the EOOS consultation results will inform the EOOS roadmap, the EuroGOOS office will deliver several studies on the in-situ state of play and analyse requirements and gaps, and we are planning several communication campaigns and exhibitions to promote our work. Stay tuned via our website and twitter.
We wish you a joyful holiday period and look forward to 2017!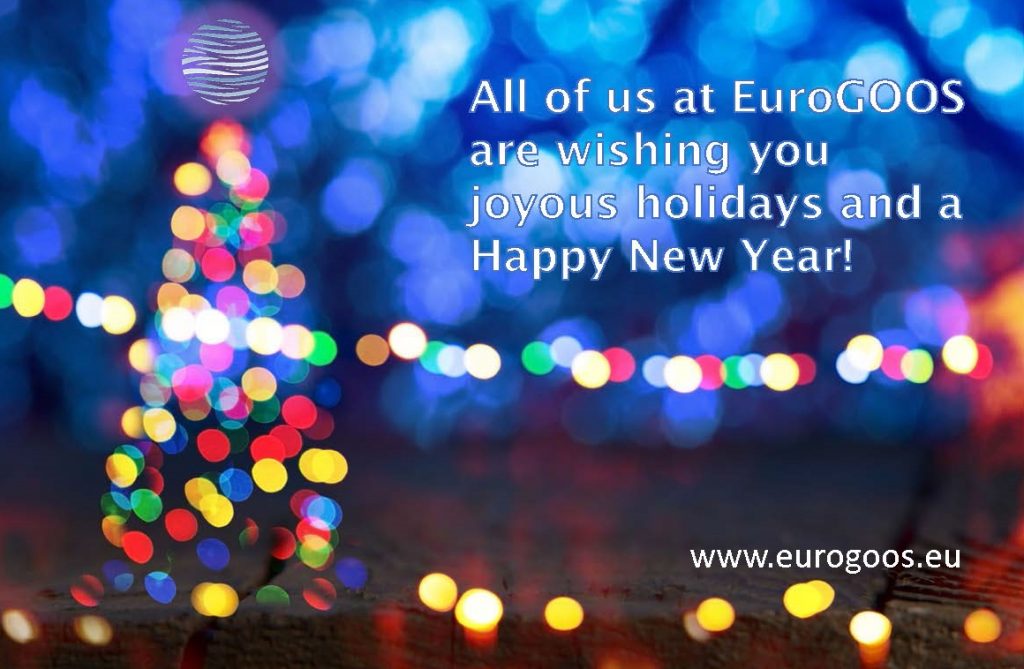 ---