Posted May 25, 2018
EuroGOOS Kostas Nittis Medal was established in the memory of EuroGOOS Secretary General and strategic leader Dr. Kostas Nittis. The Kostas Nittis Medal is accompanied by a grant and awarded to a young marine professional within the operational oceanography and broader ocean observing community.
The Kostas Nittis Medal and the grant amounting to € 3,000 aim to support the participation of young researchers and marine professionals in relevant conferences and events. The awardee is given a chance to present their research or technology at relevant events, building a professional network, gaining real life experience and reaching out to potential partners and/or employers.
The call is open to marine researchers or professionals according to the following criteria:
Candidate must be younger than 35 years old;
Candidate will have made a significant contribution to operational oceanography (technology, research, software, product/service) which is described and documented;
Candidate nominations must come from the current EuroGOOS members.
Deadline for nominations: 24 June 2018
Nomination call:

EuroGOOS-KNMedal-Call 2018 (155.4 KiB)
Kostas Nittis Medal flyer: Download 
The award ceremony for the 2018 medal will take place at the international GEO Blue Planet Symposium (4-6 July, Toulouse, France).
Previous winners of the Kostas Nittis Medal are:
Pablo Lorente Jimenez, Puertos del Estado, Spain
Angelique Melet, Mercator Ocean, France
Robert King, Met Office, UK
Posted May 23, 2018
The European Multidisciplinary Seafloor and Water Column Observatory, EMSO ERIC, have launched its first call for a transnational access to its facilities. The call will offer a free access to three EMSO ERIC facilities, EMSO PYLOS, EMSO SmartBay, and EMSO NICE.
Through the call, external measuring systems can be installed at those facilities, e.g. instruments, systems, new technologies; and new procedures can be tested. This call offers a unique opportunity for scientists and engineers to avail of high-quality interlinked instrumented infrastructures operating in open ocean observatories for carrying out research and/or testing activities.
Application submission deadline is 31 July 2018. Further information is available on the EMSO website.
EMSO ERIC is affiliated with EuroGOOS as a EuroGOOS Task Team. 
Posted April 23, 2018
The INTAROS project is conducting an open survey of Arctic in situ observations of the ocean, atmosphere, terrestrial sphere and cryosphere, retrieved through established networks/observing systems as well as individual large projects. The survey will help assess the existing Arctic in situ observing systems in terms of data delivery chain, accessibility, and spatial-temporal coverage. The answers will enhance the visibility of the assessed data, and will facilitate data discovery for stakeholders and data users.
Take the survey and read background information here
Posted April 5, 2018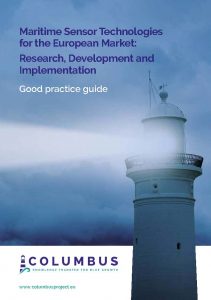 The Horizon 2020 COLUMBUS project has delivered a new guide sharing best practices, highlighting bottlenecks, and giving recommendations for a successful knowledge transfer in maritime sensor technologies.
Over the course of successive EU Framework Programmes, the European Commission has made a significant investment in research and innovation projects designed to advance ocean observing and monitoring capacities through the development of marine environmental sensing technologies. However, the Commission's vision to deliver a suite of new sensors which would be a commercial and operational success and support key policy and management objectives has not yet been fully realised. Ex-post assessment suggests that there is a disconnect between the ambitious goals set out in the original call texts, and what is actually achievable within the confines of a 3-4 year collaborative research project. Some of the EU projects have been successful in commercialising products, demonstrating prototypes, and transferring innovative software to industry. Yet, the development of many promising technology leads has now stalled and may not be advanced any further because the project funding cycle has ended.
The guide gives recommendations in the following areas:
Designing the funding call and the project with knowledge management and expected impact in mind;
Advancing marine technology intellectual property through a virtual market place;
Boosting the market through policy and regulation.
The guide emphasizes future calls in the area of marine sensor development should set out very clear and achievable expectations. They should allow for realistic proposals and discourage the kind of over-reach on behalf of the proposers which is common and increasingly necessary in a highly competitive R&D environment. Equally important is to ensure that the 'need' or 'demand' according to which the call was launched is real and has been identified in collaboration with the proposed end-users/implementers of the new technology.
The guide may be of interest to a wide audience but is particularly targeted at funding agencies commissioning marine technology research and at technology developers (private and academic) engaged in such research. Technology implementers and intermediaries will equally be interested in some of the recommendations and findings.
The Horizon 2020 COLUMBUS project, which ended in February 2018, worked to identify and transfer unexploited knowledge generated by EU-funded science and technology research to actors with the potential to capitalise on it for a measurable value creation.
This COLUMBUS guide was developed as a result of discussions with COLUMBUS and AtlantOS project partners, speakers and participants at the COLUMBUS Brokerage Events 'Knowledge Transfer in Maritime Sensing Technologies' on 23 November 2017 (AtlantOS General Assembly 2017, Gran Canaria) and on 23 January 2018 (EuroGOOS Headquarters, Brussels).
Download the publication
Posted March 22, 2018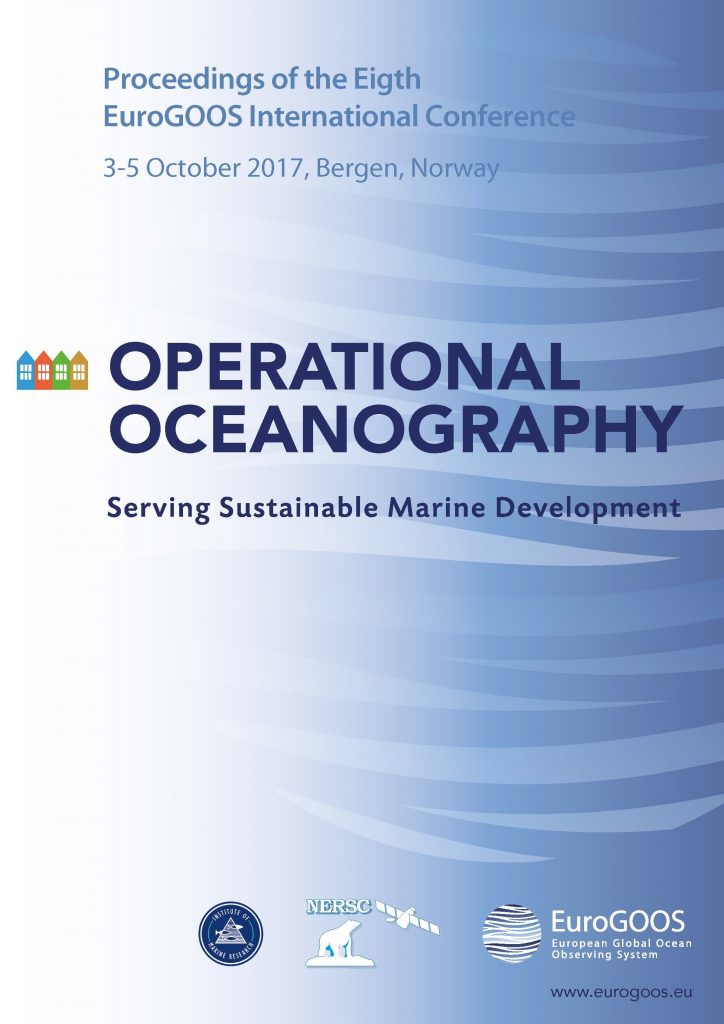 The 8th EuroGOOS Conference Proceedings, Operational Oceanography Serving Sustainable Marine Development, have been released today. The EuroGOOS international conferences are tri-annual milestone events for operational oceanographic sciences. The conferences reflect the state of play and set future priorities for European oceanography across the full value chain, from observations to data processing and modelling, and to delivering fit-for-purpose services and products for users.
The 8th EuroGOOS international conference, titled Operational Oceanography in Service of Sustainable Marine Development, took place in Bergen, Norway, on 3-5 October 2017. The event was co-hosted by the Institute of Marine Research, IMR, and the Nansen Environmental Remote Sensing Centre, NERSC, and co-organized with the EuroGOOS office. Delegates from 24 countries and many international, European and regional networks attended. The programme included two plenary sessions running on the first and last days of the conference, a poster session, and a day-long splinters session featuring 54 talks across the marine observation and data value chain.
Download the 8th EuroGOOS Conference Proceedings
Posted March 12, 2018
A full-day EOOS forum on 8 March brought together 80 ocean science managers, researchers, policymakers and private companies on the topic of ocean observations.
The information required to do business, research or ensure security at sea is based on an array of ocean observing infrastructures. We rely heavily on ocean information, but its sources are disparate, with measurements taken for various purposes, over disrupted time scales, and to different standards. Europe, trying to capitalize on the shared benefits of cooperation in ocean research and the blue economy, needs an end-to-end and sustained European Ocean Observing System (EOOS), allowing all users and implementers of ocean observations find information and help they need.
The EOOS framework is being developed by EuroGOOS and European Marine Board with experts and advisors from many regional, national and pan-European organizations. While there's a broad agreement that such a framework is urgently needed for Europe, it is still unclear how exactly to fulfill this ambitious task. At the EOOS forum on 8 March, delegates brainstormed on the critical EOOS questions, including system design tools, funding, governance, technologies and innovation, as well as communications.
'Without ocean observations we are living in the dark' was stated at one of the group discussions, but 'a cultural step change is needed to break the silos between multiple stakeholders'. EOOS will gather information on monitoring plans, discuss funding priorities, and engage with new partners. EOOS will also help make a business case for ocean observations and allow the community to reach out to governments, engage more systematically with regional efforts and inform pan-European research programming. EOOS forum delegates strongly emphasized the need to listen to the needs of various ocean observing users, to ensure EOOS is genuinely fit-for-purpose.
An EOOS strategy and implementation plan will take on board the valuable intellectual inputs from the EOOS forum. These documents will present an EOOS vision and concrete steps over the coming five years and be open for stakeholder consultation in the spring. The finalized drafts will be presented for adoption at the EOOS conference on 21-23 November.
Posted January 11, 2018
Registration is open for the EOOS Forum taking place in Brussels on 8 March 2018. The Forum will bring together main ocean observing stakeholders in Europe and beyond to examine the extent to which the current ocean observing systems are sustainable today, and what opportunities and threats there are.
The EOOS Forum will discuss the EOOS strategy, developed further to the stakeholder consultation Dec. 2016- Jan. 2017, and seek feedback from the funders, implementers and users of ocean observations on the way forward.
Further information and registration are available on the dedicated Forum webpage on the EOOS website. 
Posted December 1, 2017
Save the date for two milestone EOOS events in 2018: 
EOOS Forum, 8 March 2018, Brussels, and
EOOS Conference, 21-23 November 2018, Brussels. 
Developed in synergy these events will address how to:
Align and connect existing initiatives to ensure efficiency and value for money;
Identify gaps in the European observing capacity and foster initiatives to fill those gaps;
Promote observing capacities which can benefit multiple sectors including research, policy, management, and industry;
Ensure that European ocean observing is integrated into the global observation systems.
EuroGOOS and EMB have joined efforts to help promote and set up a comprehensive framework for the European ocean observations, the European Ocean Observing System (EOOS). The EOOS process started back in 2007 during the development of the European Integrated Maritime Policy – the ocean science and observations communities made a clear call on the policymakers that for an integrated maritime policy an integrated European ocean observing is critical. The current system in Europe is predominantly based on the observations done by individual states, and for their specific purposes. The European Union have established a strong policy framework to promote sustainable observations, and have set up important and effective marine data integration initiatives. However, without the critical national European efforts, those pan-European initiatives and frameworks are not sustained. 
EOOS vision is to develop a truly integrated and sustained European ocean observing capacity, where decisions and focus areas can be jointly made and prioritized, helping to achieve fit-for-purpose services for a wide range of ocean users, from industry, to science, to policy and society.
In 2016, EuroGOOS and EMB brought together an EOOS steering group composed of several ocean observing experts and European Commission representatives, to advance the EOOS vision and drive forward the first integration steps. The EOOS steering group developed a consultation document on EOOS which was open for public stakeholder consultation in late 2016-early 2017. Based on the results, the EOOS strategy will be developed and finalized at the EOOS Forum on 8 March 2018. Major national and international stakeholders responsible for ocean observing funding will get together for the EOOS Forum to discuss the way forward for the EOOS strategy. Eight months later, on 21-23 November, an EOOS Conference, organized with the EMODnet secretariat, will take place to discuss the implementation steps with a broad EOOS community and related initiatives in Europe and beyond.
All information about the events will be made available on the EOOS website
Posted October 16, 2017
Scroll down for the event's photogallery
On 5 and 6 October 2017, the European Union hosted the 4th edition of the international Our Ocean conference in Malta. Our Ocean 2017 brought together world leaders, generated commitments, and showcased ocean initiatives around the globe. The conference resulted in an unprecedented engagement across policymakers, NGOs, foundations, research organizations and businesses. In total, Our Ocean 2017 generated:
• 437 tangible and measurable commitments;
• EUR 7.2 billion in financial pledges;
• 2.5 million square kilometres of additional Marine Protected Areas.
EuroGOOS had a strong presence at the conference exhibition, with a dedicated ocean observing showcase displayed on an interactive white board and an Ocean Talk on the exhibition pitch stage. A picture gallery can be found at the bottom of this article. In the EuroGOOS Ocean Talk, Erik Buch, EuroGOOS Chair, explained what constitutes the ocean observing and why it is a critical research and technology area underpinning any decision making in the ocean domain. The EuroGOOS Ocean Talk featured the end-to-end marine observations and data value chain and explained the drivers for observations for maritime and policy users. In partnership with the global community and in particular the Global Ocean Observing System coordinated by the Intergovernmental Oceanographic Commission of UNESCO, EuroGOOS continues to strive towards sustained European ocean observing capacity and services.
Moreover, EuroGOOS launched, as part of its Ocean Talk, its first ocean literacy publication. The EuroGOOS child book, The Ocean Is My Home, was presented by Dina Eparkhina, EuroGOOS Policy and Communications Officer. Subtitled, For Children, Parents and Our Ocean, this book, published on the occasion of the conference, explains the ocean's ecosystem and economic role and the need to collect knowledge about it. Readers will have a glimpse of ocean observing technologies and find out what each of us can do for the ocean regardless whether we live close to it or far away. The book was very well received, disseminated during the EuroGOOS Ocean Talk, and also handed to several high-level conference presenters, among others Vladimir Ryabinin, IOC Executive Secretary, and Peter Thomson, the UN Special Envoy for the Ocean.
The Our Ocean 2017 website will remain active. It features all the speeches, presentations, and commitments made during the conference. The EuroGOOS Ocean Talk can be viewed at this link.
Next Our Ocean conferences will take place in Bali, Indonesia, in 2018, followed by Norway in 2019, and Palau in 2020.
Link to the Our Ocean plenary video recording
Link to the exhibition hall Ocean Talks video recording 
Download the EuroGOOS press release for the launch of the ocean literacy child book
Download the EuroGOOS ocean literacy child book, The Ocean is my Home
Download the new EuroGOOS general brochure
Posted October 11, 2017
The 8th EuroGOOS international conference, titled Operational Oceanography in Service of Sustainable Marine Development, took place in Bergen, Norway, on 3-5 October 2017. The event was co-hosted by the Institute of Marine Research, IMR, and the Nansen Environmental and Remote Sensing Centre, NERSC, and co-organized with the EuroGOOS office.
Delegates from 24 countries and many international, European and regional networks attended. The programme included two plenary sessions running on the first and last days of the conference, a poster session, and a day-long splinters session featuring 54 talks across the marine observation and data value chain.
On the opening day of the conference, the 2017 Kostas Nittis Medal and grant to a young researcher were awarded to Robert King from Met Office, UK. Robert presented an impressive amount of work done for improving operational forecasting systems and in situ data assimilation in oceanographic models, in his plenary flash talk. 
The conference resumed with a forward-looking address from Peter Haugan, chair of the UNESCO Intergovernmental Oceanographic Commission, IOC, calling the EuroGOOS community to join the IOC efforts towards an impactful global Ocean Science Decade.
The EuroGOOS conference discussed major developments in operational oceanography in recent years. Cooperation among ocean observing and data aggregation initiatives have progressed strongly since the previous conference in 2014, noted Erik Buch, EuroGOOS chair. Furthermore, several marine research infrastructure networks have transitioned to full legal entities towards a robust and timely data delivery for a wide range of users. Biogeochemistry observations have also progressed considerably, as did the awareness of the critical importance of those measurements.
EuroGOOS has played an important role facilitating dialogue and synergy across actors and promoting the value of ocean observing services to science, policy and blue economy. The conference demonstrated the importance of an end-to-end and fit-for-purpose oceanographic system. In this respect, the EuroGOOS work facilitating an integrated European Ocean Observing System, undertaken with the European Marine Board, is very important to achieve reliable and sustained oceanographic services.
Europe remains well positioned to take a global lead in operational oceanography. Presentations at the EuroGOOS conference demonstrated a community delivering high-quality assessments of past, current and future ocean state for a wide range of users.
Looking ahead, EuroGOOS will continue to advocate for sustained ocean observations in Europe and globally, in partnership with the Global Ocean Observing System, GOOS, and its regional alliances, as well as further building capacity worldwide. Promoting ocean literacy, to both policy and society, will also be a part of the EuroGOOS efforts. Furthermore, EuroGOOS will continue to promote open exchange of oceanographic data.
Further information about the 8th EuroGOOS Conference is available on the conference website. The proceedings will be released by the end of 2017.
---