Posted February 17, 2017
The EuroGOOS International Conference, organized every three years, is a milestone in ocean observing providing a forum for international scientific experience sharing. The next conference will take place from 3 to 5 October 2017, hosted by IMR and NERSC in Bergen, Norway.
The conference will provide a forum for a broad range of implementers and users of operational oceanography services, including marine scientists and technologists, private companies, and policymakers. The conference will review the present ocean monitoring and forecasting capacities and oceanographic services, and identify new science and technology priorities. It will facilitate dialogue, experience sharing and future planning with both European and international partners and stakeholders, towards a more coordinated response to global challenges and societal needs related to seas and oceans.
The two and a half day conference will include plenary, splinter and poster sessions as well as round tables with focused discussions. The main outcomes of the conference will be summarized during the last day and key messages will be formulated. Presentations in splinter sessions will be selected based on an open call for abstracts, to be launched in March 2017. Full papers will be published in the EuroGOOS conference proceeding series.
Posted January 23, 2017
The Arctic and the 4 million people who work and live there are feeling the effect of climate change much sharper than anywhere else in the world. The Arctic environment is changing due to increased temperature. The thinning of the sea ice, melting of the Greenland Ice Sheet, and thawing permafrost bring about alarming changes. Such changes have both global and local implications, including e.g. natural hazards, extreme weather, sea level change, coastal erosion and changes in the ecosystem. Furthermore, exploitation of the Arctic resources, marine transportation and other human activities are expected to increase, putting additional pressure on this vulnerable environment.
However, we do not have enough marine data and knowledge about the state of the Arctic and ways to address those changes in a sustainable way. This is why the European Commission funded a project to build an Arctic Observation System – INTAROS. The project started last December and held its kick-off meeting in Bergen earlier this month.
The INTAROS project is coordinated by the Nansen Environmental and Remote Sensing Center (NERSC) in Bergen, Norway, with professor Stein Sandven (chair of the EuroGOOS Arctic ROOS and a long-standing EuroGOOS member) leading the work. INTAROS is one of four EU projects focusing on the Arctic and will contribute to the implementation of EU Arctic Strategy. INTAROS brings together expertise from 49 partner organisations in 20 different countries in Europe, North America and Asia with the long-­term goal to implement an integrated sustainable Arctic Observation System for future generations. EuroGOOS is partner in the project, responsible for delivering recommendations on the system requirements, developing a business case and an economic benefits analysis, and contributing to the international OceanObs conference 2019.  
INTAROS will develop an integrated Arctic Observation System by extending, improving and unifying existing and evolving efforts in the different parts of the Arctic. The project will capitalise on the existing systems and databases of atmosphere, ocean, cryosphere and terrestrial data. INTAROS will combine existing distributed data repositories with the new ocean measurements and provide tools for data discovery, aggregation, analysis and visualisation. A seemless information platform will be developed for an easy access to this information, critical for understanding of the environmental changes in the Arctic. INTAROS will also install new instrumentation to measure physical, chemical, biological and ecological parameters for the atmosphere, ocean, cryosphere, and terrestrial environment. These measurements will fill information gaps, compliment remotely sensed data, and improve model predictions for the Arctic. International cooperation within and beyond Europe will be essential for the outcome of the project. A pan-­Arctic forum will be set up to support formulation of agreements and collaboration across the EU member states, non-­EU countries and transnational organisations.
This text is based on the article by EurOcean published on the CORDIS website on 16 January 2017 (permalink : http://cordis.europa.eu/news/rcn/137515_en.html)
Posted December 22, 2016
2016 was an incredibly productive year for EuroGOOS and we would like to thank all our members, regional systems (ROOSes), task teams, working groups and multiple partners for their contributions to this work!
The 1st EuroGOOS policy brief published in May and launched at the European Maritime Day in Turku set out our priorities for the coming years. The publication was prepared based on a peer reviewed article by our Science Advisory Working Group chaired by Jun She. Other articles from the EuroGOOS community were released in the Ocean Science Journal Special Issue covering our 2014 International Conference. The proceedings of the conference are available on our website.
EuroGOOS has been driving the EOOS process, working hand in hand with the European Marine Board and the EOOS Steering Group. A steering group was set up in April and met twice this year, preparing an EOOS Consultation Document and a stakeholder consultation survey, currently ongoing until 20 January. We launched an EOOS visual identity, website and several dissemination materials, and explained the need for EOOS at many meetings and events. We also organized a successful science-policy event on EOOS at the European Parliament.
Ocean observing has been recognized as a priority at the highest political level (UN, COP, G7, among others) and we have continued working with our global partners, IOC, GOOS, IMOS, IOOS, WMO, JCOMM, and GEO.
Two new EuroGOOS task teams have started operation this year joining the other five existing groups already actively working towards infrastructure collaboration and sustained in-situ observations in Europe. The new task teams focus on Animal-Borne Instruments and Fixed Platforms.
At the EuroGOOS General Assembly, a young researcher from France received the second EuroGOOS Kostas Nittis Medal. After the first medal was launched in 2015 in Athens by Commissioner Karmenu Vella, the Kostas Nittis Medal and associated grant have been offering a tangible support to young researchers to promote their work and explore opportunities at international events.
EuroGOOS has become a trusted partner in a number of strategic EU projects on ocean observing, cross-disciplinary collaboration and research infrastructures. Contracts with both the European Environment Agency (EEA) and Mercator Ocean were signed to enhance our understanding of the requirements and gaps in the observing system towards more efficient European Earth observation Copernicus services. Links between the Copernicus Marine Environment Monitoring Service, CMEMS, and downstream service providers at national level will also be explored and improved. EuroGOOS is actively involved in the recently started INTAROS project focussing on designing an Arctic Observing System, supplementing our work in AtlantOS.
2017 is promising to be no less exciting and productive: the 8th EuroGOOS International Conference will take place in Bergen on 3-5 October, the EOOS consultation results will inform the EOOS roadmap, the EuroGOOS office will deliver several studies on the in-situ state of play and analyse requirements and gaps, and we are planning several communication campaigns and exhibitions to promote our work. Stay tuned via our website and twitter.
We wish you a joyful holiday period and look forward to 2017!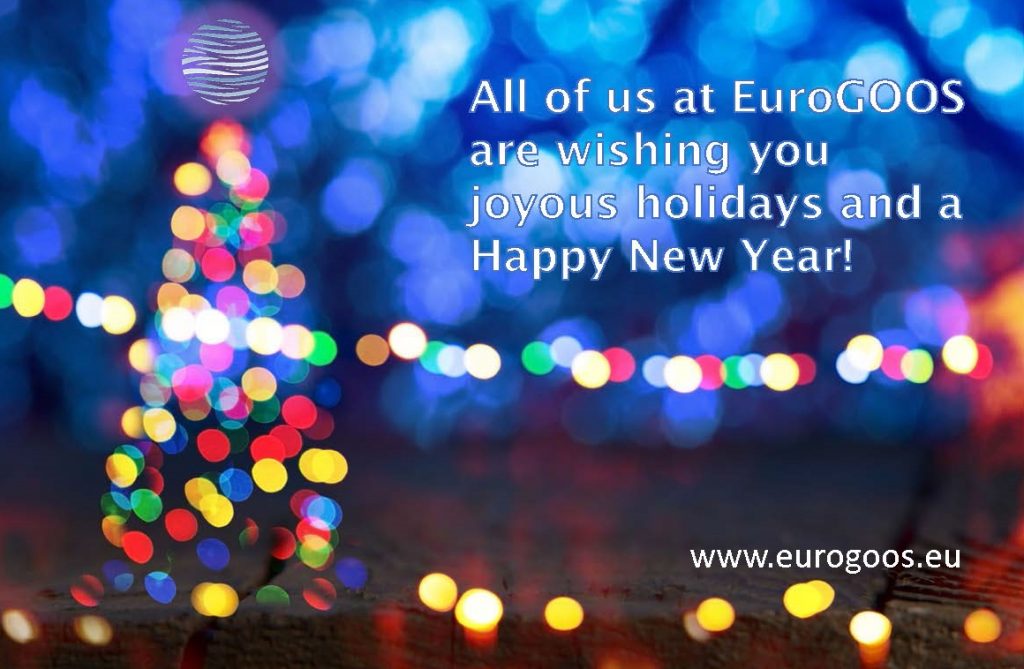 Posted December 12, 2016
From 12 December until 20 January 2017, an open stakeholder consultation is launched to help design an integrated and sustained European Ocean Observing System, EOOS. The consultation targets a wide European community of ocean data providers, infrastructure managers, technology developers, data users, and broader ocean observing stakeholders.
This survey is critical to collect views from the European ocean observing community and wider stakeholders and to inform any decision-making about a future EOOS.
The need for an end-to-end integrated and sustained European Ocean Observing System, EOOS, has been expressed by the oceanographic and scientific community during the development of the European Integrated Maritime Policy in 2007. Since then, EOOS has featured in a number of scientific and science-policy documents. However, to design an efficient and sustained EOOS concrete stakeholder recommendations are needed, as well as a policy buy-in.
The consultation survey was designed by the EOOS Steering Group brought together by EuroGOOS and the European Marine Board, in their consolidated actions to make EOOS a reality.
Have your say on the future EOOS!
Posted November 14, 2016
Scroll down for the photogallery
EuroGOOS annimation GEOSS for Europe here

From 8 to 10 November, EuroGOOS attended the plenary meeting of the global Group on Earth Observations, GEO. Since its establishment in 2005, GEO has brought together 102 nations, the European Commission representing the EU member states, and 108 Participating Organizations. GEO aims to deliver open information on Earth observations for the benefit of humankind. At the plenary a new Global Earth Observation System of Systems, GEOSS, portal was presented. 
EuroGOOS attended the GEO-XIII plenary as a GOOS representative (together with GOOS Director Albert Fischer) and as an invited participant of the European Commission's exhibition 'Europe for GEOSS' showcasing the EU efforts in Earth observations.
Robert Jan Smits, Director-General for Research and Innovation at the European Commission, and GEO co-chair, attended the EuroGOOS stand and received a copy of the EOOS Consultation document, developed by the EOOS Steering Group. The EOOS framework is being promoted by EuroGOOS and the European Marine Board to build an integrated and sustained ocean observing capacity in Europe, a European Ocean Observing System (EOOS). Presenting the EOOS framework, Dina Eparkhina, EuroGOOS Policy and Communications Officer, explained the importance of sustained ocean measurements, both in-situ and remote sensing, and ongoing European efforts to develop the observing system requirements along the UNESCO's IOC Framework for Ocean Observing. The Framework states that 'we cannot measure everything nor do we need to' and sets out the concept of Essential Ocean Variables to guide the development of the observing system requirements, elements and products. EOOS will not only provide a unique forum for the scientific community to discuss synergies among the ongoing efforts, but will also form a focal point for the European policymakers. Ocean observing underpins EU policies and initiatives led by several Directorates General, namely for Research and Innovation, Environment, Maritime Affairs and Fisheries, as well as Internal Market, Industry, Entrepreneurship and SMEs. The EOOS concept and the consultation document were presented at a recent European Parliament event, 8 September 2016, Brussels.
In addition to the GEO-XIII plenary and exhibition, several side-events took place during the GEO week. Over 400 participants attended the week, taking place in St Petersburg struck by an unusually cold weather with day temperatures falling to minus 10 and the city covered in thick snow. GEO launched five new initiatives, including among others, Earth Observations for Ecosystem Accounting and GEO for Sustainable Development Goals. A dedicated session was organized to collect industry views on the GEOSS requirements. It was noted that GEO should engage in collecting user feedback and possibly co-design information services with users. Open data promotion was stressed as critical for achieving the GEO objectives. However, opening the data was not enough for an efficient GEOSS, the data must be fit for purpose and of known quality. Finally, a new GEO programme was discussed in the framework of the UN Sustainable Development Goals. EuroGOOS Chair, Erik Buch, represented the ocean component on the GEO Programme Board in 2016.
Further information on the GEO-XIII plenary, including the meeting documents, is available on the GEO website
On Twitter, EuroGOOS and other posts can be viewed with the official hashtag: #GEOweek2016
The GEO-XIV plenary is planned in Washington DC on 23-27 October 2017; GEO-XV will take place in Japan.
Posted November 12, 2016
On 12 November, an Oceans Day was organized at COP 22 by the Government of Morocco and several international organizations and platforms, among others, the Prince Albert II of Monaco Foundation, the UN Food and Agriculture Organization, the Global Ocean Forum, the Ocean and Climate Platform, the IOC-UNESCO, and the World Bank. The event discussed the requirements for the implementation of the Paris Agreement  (which came into force on 4 November), including political and policy support in the context of the UN Sustainable Development Goals (SDGs). The meeting stressed the need to build mechanisms connecting the oceans, coasts, and climate initiatives with national actions and plans. The Roadmap for Global Climate Action championed by France and Morocco was presented, promoting a common approach between the Nationally Determined Contributions (NDCs) and the SDGs, and the need for transparency. Financial support and capacity development are required to enable nations to fulfil their NDCs, this concerns notably Small Island Developing States (SIDS) and African states.
European Commissioner for Environment, Maritime Affairs and Fisheries Karmenu Vella reminded the meeting in his opening speech that 'oceans are the unsung heroes of our planet's climate'.  Commissioner Vella stressed the European Union's commitment to achieving the objectives of the UN Agenda 2030 and the Paris Agreement. Commissioner also presented the newly released EU Communication on International Ocean Governance, and announced that the European Union will be holding the international Our Ocean conference (launched by John Kerry in 2014) in Malta on 5-6 October 2017.
Oceans Days at COP are bringing together high-level decision and policy-makers with eminent scientists to discuss the importance of the ocean – both regulating the Earth's climate and suffering strongly from the effects of climate change. EuroGOOS  participation in the Oceans Days at COP21 in Paris is outlined here.
Posted November 3, 2016
EuroGOOS and IMOS, the Australian Integrated Marine Observing System, are two of the thirteen GOOS Regional Alliances (GRAs), working towards a global ocean observing system through national and regional programmes. Glenn Nolan was invited by Tim Moltmann, Director of IMOS, to present a European observing and forecasting perspective at the Australian Coastal and Oceans Modelling and Observations conference (ACOMO 2016) and a separate seminar at the Commonwealth Scientific and Industrial Research Organisation, CSIRO, in Hobart.
The ACOMO conference was held at the Australian Academy of Sciences, Canberra, on 11-12 October. The conference brought together the diverse ocean modelling and observations community. 46 papers and 35 posters in five topic areas were presented spanning all areas of coastal and open ocean oceanography, biogeochemistry and ecosystem observation challenges, as well as user applications. Glenn Nolan presented in the final session on EuroGOOS member services to operational oceanography end-users in Europe.
At the CSIRO seminar on 14 October, Glenn Nolan delivered a talk on EuroGOOS activities on capacity development within the GOOS Regional Alliances. During that week, Glenn Nolan also visited the Australian Antarctic Division and met with colleagues from the Global Ocean Observing System in the Indian Ocean, IO-GOOS, and Bureau of Meteorology.
The Council of GOOS Regional Alliances comes together at a biennial forum, with the next one scheduled for 2017.  IMOS is currently chairing the Council, with EuroGOOS holding Vice Chair role.
A news piece on the visit of Glenn Nolan was released on the IMOS website.
Posted October 17, 2016
Scroll down for the event's photogallery
On 11 and 12 October, EuroGOOS, EMODnet and three partners of the EU COLUMBUS project, SmartBay Ireland, Marine South East, UK, and PLOCAN, Spain, had a successful marine data brokerage event for Small and Medium-sized Enterprises (SMEs). The workshop titled 'Power of open marine data for the blue economy' took place as part of A Connected Ocean Conference and SeaTech Week 2016 in Brest, France.
Publicly available marine data resources offer a great potential for SMEs to create value-added products and services for their customers. The workshop aimed at linking with some of those SMEs as well as other users working on the public-private interface, and collecting their feedback on experiences, needs, bottlenecks, and suggestions for improvements.
The workshop was organized within the framework of the EU Horizon 2020 COLUMBUS project. COLUMBUS works to bridge the gap between the knowledge and information collected through EU projects and concrete applications for Blue Growth sectors. The engagement of the industrial users of marine data has been identified as a priority by the COLUMBUS Marine Observation Competence Node, bringing together EuroGOOS, NOC, UK, VLIZ, Belgium, and Marine South East, UK, with the node coordination by Seascape Consultants, UK.
It has been recognized that making public marine data available to private sector will drive forward innovation and competition. The EU Member States and European institutions fund a large number of ocean observing research and infrastructure activities to derive marine data for various science, policy, and society needs. It has been estimated that making high-quality marine data held by public bodies in the EU widely available would improve productivity by over €1 billion a year (EC Roadmap for Marine Knowledge 2020).
The workshop included a mixture of open-floor discussions and presentations involving both EU marine data community, EuroGOOS, EMODnet, Copernicus Marine Service (CMEMS), private sector, Open Ocean, France, dotOcean, Belgium, as well as the EU AtlantOS project, French maritime cluster Mer Bretagne Atlantique, and St. Lawrence Global Observatory, Canada.
A number of European initiatives have been harvesting marine data collected by publicly-funded national and pan-European initiatives. Commonly called data aggregators, these initiatives include, among others, CMEMS, EMODnet, and SeaDataNet. Much progress has been made over the last years in helping users to become informed about the data available, visualize these data, download them in required geographical location and format, and acquire the metadata for the required dataset. However, a number of bottlenecks still exist, spanning data availability, quality, user-friendly format and web services.
In addition, to the abovementioned issues, the workshop further demonstrated that the role of SMEs is critical as intermediaries in the marine data value chain – acting on the interface between the public marine data resources and industrial end-users. SMEs know their clients much better than the public data initiatives, and can orient them to look for required information, or create bespoke value-added products for their users' specific needs. This is why SMEs are very well placed to advise public marine data initiatives, like EMODnet and CMEMS, on ways to improve their service.
The issue of confidentiality was also discussed at the workshop. While competition will automatically entail restrictions on opening data, progress may be achieved through sharing a very broad range of data and making a distinction between 'strategic' and 'non-strategic' data (for example, sea temperature data). Promotion and recognition of open data are also critical to attract more data from private companies into the open repositories, this can be achieved through the recognition of the companies' corporate responsibility, for instance. Another idea which arose from the workshop is for public and private initiatives to co-write papers together. This would allow them both gain from having a publication while the data would be made available with a Digital Object Identifier (DOI).
It was re-emphasized that brokerage is important for gaining trust and understanding among public and private partners, and promoting a data sharing philosophy. This should also take into account the development of business models and openness to speak the same language. The role of maritime clusters was stressed in this respect. Finally, data discovery should be made attractive with user-friendly and efficient interface.
The workshop report will be shortly available on our website.
For further information on the workshop, please visit the workshop webpage
Posted October 14, 2016
The HNS-MS project, Harmful and Noxious Sustances pollution of the Marine System, is funded by the European Commission's DG ECHO and is ending on 31 December 2016. In Brussels on 13-14 December, the project is holding its final stakeholder meeting to present the project's results including, among others, a decision-support tool for national maritime authorities and coastguard stations to forecast the drift, fate and behaviour of acute marine pollution by Harmful Noxious Substances (HNS) accidentally released in the marine system.
The meeting is designed to allow open discussions among participants and foster possible future collaborations and actions (e.g. long-term maintenance of the HNS-MS DSS, capacity-building in other regions, regional risk assessments, etc).
Further information is available on the project's website 
Posted September 26, 2016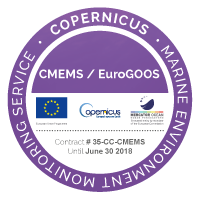 EuroGOOS signed a contract with Mercator Ocean to promote sustained ocean observations and a strong connection with users of marine data products. The contract particularly addresses seaborne, in situ, observations and the uptake of Copernicus Marine Service (CMEMS). Mercator Ocean is an EU Entrusted Entity with responsibility to deliver the CMEMS service within the current EU multi-annual financial framework 2014-2020.
The EuroGOOS – Mercator Ocean contract will help build closer links with national ocean observing programmes towards a fit-for-purpose CMEMS. EuroGOOS will collect and assess information about the current in-situ systems in Europe and determine priority actions towards a long-term integration. Furthermore, EuroGOOS will develop a communication strategy to improve the awareness of the European policy and decision-makers of the importance of the in-situ marine observations, and complimentarities between the leading European marine data initiatives and services, namely CMEMS, EMODnet and SeaDataNet.
Press release is available on the Copernicus Marine Service website
---