The Oceanography Center is the Cyprus institution for ocean research and one of the operational marine core and downstream forecasting and monitoring centers in the Mediterranean. The Oceanography Center was established in 2003 following an agreement between the Department of Fisheries and Marine Research of the Ministry of Agriculture Natural Resources and Environment and the University of Cyprus.
The mission of the Oceanography Center is to conduct basic and applied research in the fields of ocean physics and dynamics, remote sensing, operational oceanography, biological and chemical oceanography and dedicated ocean and marine data and metadata bases and information systems, etc.
Moreover, the Center aims to operate the CYprus Coastal Ocean Forecasting and Observing System CYCOFOS in cooperation with existing operational ocean forecasting networks in Europe and the Mediterranean (MONGOOS, MyOcean) within the scopes of EuroGOOS and GMES-Copernicus as well as to demonstrate and provide information regarding the marine environment to decision makers, key end users and to the public. Furthermore, the Center is keen to offer consulting services to government and private sectors (e.g. search and rescue, oil spill pollution, pelagic fisheries, fish farming, desalination plants, disposal of industrial effluent, oil and gas industry).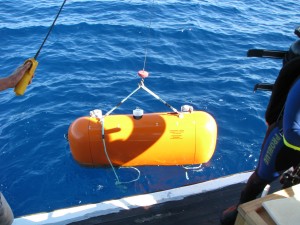 From top left and clockwise: ADCP (credit: OC-UCY, 2013); operational forecasting at OC (credit: OC-UCY); and Mooring profiler deployment (credit: OC-UCY, 2012)